Opening Reception: BODIES III
May 12 @ 6:00 pm

-

8:00 pm

Free
Art students from three prestigious schools around the world respond to the prompt: "Bodies."
Students in Megan Euker's Design, Sculpture, and Digital Fabrication classes at the Accademia di Belle Arti Siracusa/MADE (Mediterranean Arts and Design); University of South Florida; and School of the Art Institute of Chicago created works in response to a single word prompt: "Bodies." Using the collections at the International Museum of Surgical Science for inspiration, students began identifying medical or bodily constraints that could be alleviated through a specifically designed assistive device. Through a process of in-depth research and prototype testing, students created preliminary designs intended to increase accessibility, promote healthy behaviors, create comfort and improve safety. After consulting with medical professionals and undergoing critiques, they modified their ideas and remade their objects at full scale.
These designed objects create a social impact by making it easier for all kinds of bodies to move through the world. They also spark new questions: what mental and physical constraints do our bodies place on us all? What are the best uses of designed objects in the fields of health, medicine, and surgery? And how do you design your own environment to fit your day-to-day needs? Works in this exhibition explore these fundamental ideas of ability and the body.
___________________________________________________________________________________________________
Light refreshments are included and alcohol will be served to guests with proof of age. Alcohol served to guests 21+, ID required.
Accessible accommodations include a ramp entrance and elevator. If you need additional accessibility options or wheelchair seating please contact us at info@imss.org.
Parking and Directions can be found here: https://imss.org/plan-your-visit/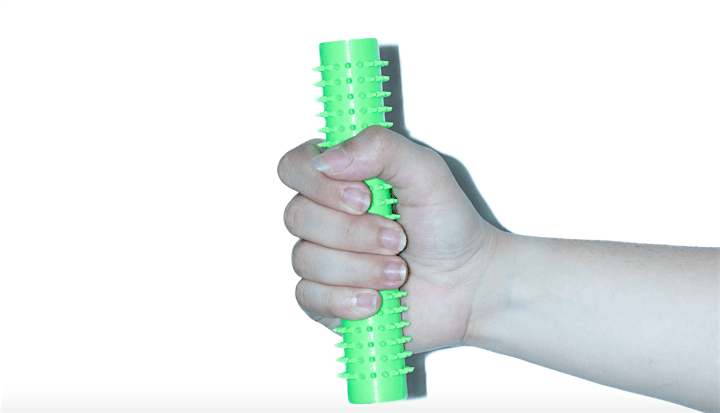 Josseline Melgar, YOU GOT THIS, 2022
About the Contemporary Art Program: The International Museum of Surgical Science supports a commitment to contemporary art and artists through exhibitions and programs that use the frame of contemporary artistic practice to examine new perspectives in medical-surgical science and our relationship to the body. The Museum's Contemporary Arts Initiative includes rotating exhibitions of contemporary art, as well as an ongoing Artist in Residence program.
About the Curator:
Megan Euker is an Italian and American artist/designer and a two-time U.S. Fulbright recipient to Italy (Fellow, 2008-9 to Florence and scholar, 2022-23 to Sicily).
She comes from a background in art and design, obtaining MFA and BFA degrees from the School of the Art Institute of Chicago (SAIC). Euker is the Project Manager at San Rocco Therapeutics and has also taught at SAIC, USF in Tampa, Florida, the Siena Art Institute, Italy, and MADE in Sicily, among other universities. Additionally, Euker is the agent for Wall Street Journal Bestselling Author Patrick Girondi and his band, Patrick Girondi & the Orphan's Dream.
Euker has exhibited artwork internationally at galleries (represented by Linda Warren Projects since 2008) and museums, including a solo exhibition "The Cure" at The International Museum of Surgical Science" (IMSS) in Chicago. This exhibition showcased current issues in orphan diseases, especially Sickle Cell Disease and Beta Thalassemia. She has additionally curated three exhibitions of her students work at the (IMSS), featuring medical devices created under her mentorship.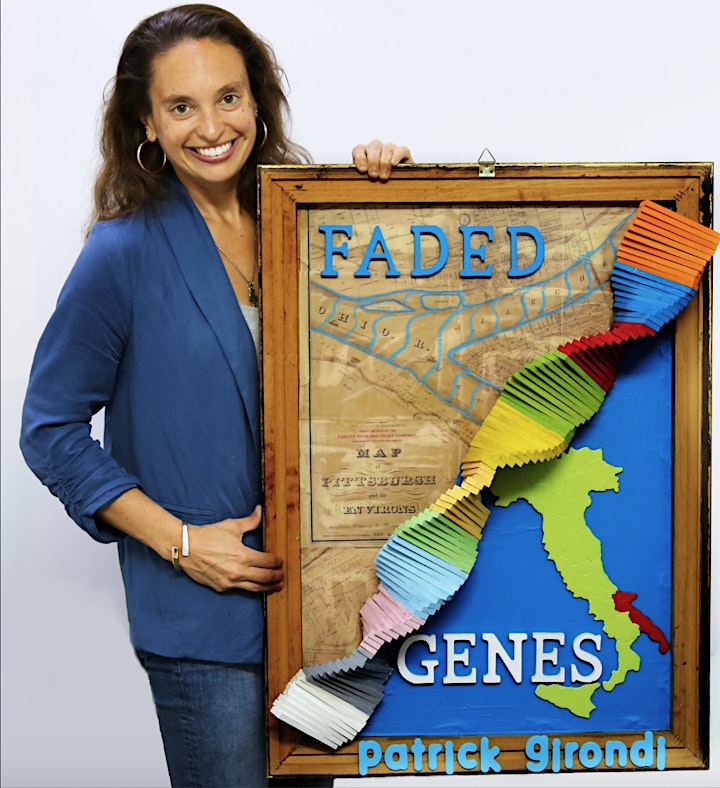 About the Artists (Name, Title of piece, Birthplace):
Andrea Miccio
Chair/Walker

Milazzo (IT)
Andrea Miccio was born in Milazzo (Me) in 1997. After graduating from art school, a few years later he and his brother opened a furniture showroom and began studying product design in Syracuse.
Ashton Bedlack

Hear Clear Gear

St. Petersburg, USA
Saint Petersburg, Florida based artist, Ashton Bedlack, has been exploring sculpture and printmaking in her time at the University of South Florida. She has begun honing in on sculpture in the last year, focusing on using repurposed materials and other mixed media. In her senior year, she is working to discover the numerous ways in which we can recycle what many would call "trash" into something new and beautiful.
Dawn Sebastian

Motivational Mood Mirror

Dan Diego, USA
Dawn M Sebastian graduated with an A.A. Studio Arts from Hillsborough Community College in 2019 with a focus on photography and printmaking and in 2022, B.A. Studio Arts, University of South Florida with a focus in sculpture and video arts and film.
Dean Yoo

Heart Ring

Seoul, South Korea
Dean Yoo is a sophomore at the School of the Art Institute of Chicago. He was born in 2003 and raised in Seoul, South Korea. Dean loves to draw and paint with playful colors and use different types of mediums to create artworks. He plans to become a professional headphone and speaker designer after he graduates from SAIC.
Erin Elliott

Sugar Decay

Brandon, USA
Erin Elliott is a Bachelor of Arts student at the University of South Florida studying drawing and sculpture graduating in 2024. She is currently enrolled in her junior year. Born in 1999 in Brandon, Florida, Erin enjoys creating whimsical and colorful artworks in many different mediums. She plans to work in professional illustration of children's books and graphic novels. This is her first professional museum exhibition.
Giulia Gringeri

Imagine; Happy Pain

Siracusa (IT)
After classical studies, Giulia dedicated herself to entrepreneurship in the tourism sector. After attending a tourism economics course in Milan, she worked as a receptionist in various hotels. Today, she is the owner of a hotel located in the historic center of Syracuse. In 2020, driven by the desire to deepen her knowledge of the world of design, she decided to enroll in the Arts Academy in Syracuse.
Isabella Saglimbene
Pacco

Siracusa (IT)
Isabella Saglimbene was born in Syracuse in 1998. She attended the Federico II di Svevia Hotel Institute, where she dedicated herself to pastry-making, later working in various restaurants. Among her many interests, she has always cultivated the attention for Product and Interior design, which prompted her to enroll at the Academy of Fine Arts in Syracuse. She is currently in her final year and her goal is to continue studying to work in the field of design.
Josseline Melgar

YOU GOT THIS

Chicago, USA
Josseline Melgar was born in Chicago, Illinois; she is a senior BFA student at the University of South Florida's School of Art and Art History. She works in both sculptural and digital media and plans on pursuing residency opportunities and her Masters degree in sculpture after graduation. Josseline's work has been included in group exhibitions at Hillsborough Community College, USF, and the Heiress Gallery in St. Petersburg, FL.
May Griffin

Model of A Heart

Tampa, USA
May Griffin was born in 2002 and raised in Tampa, Florida, where she is currently in her third year of being a studio art major at the University of South Florida. During her time at USF, she has discovered her passion for creating three-dimensional artwork, which led to the creation of her piece Model of A Heart. She hopes to continue working in sculpture after graduation and eventually attend graduate school.
Monica Palazzolo

Luc'è

Siracusa (IT)
Monica Palazzolo was born in Syracuse (SR) in 2001. After attending high school for the arts, she decided to continue her studies at the MADE Program Academy of Fine Arts in Syracuse, where she began studying design.
Sara Sanfilippo

SugarTOO

Catania (IT)
Sara Sanfilippo is a student in the 3rd year of Design at the Academy MADE Program in Syracuse (SR). After graduating from the artistic high school in 'art of furniture and wood' she decided to continue her path in design. Her greatest interest is aimed at the world of jewelry up until now, although has always carried out large-scale projects.
Shauna Miller

Tendon Management

Tampa, USA
Shauna Miller is a senior studio art major at the University of South Florida specializing in 3D arts. She mostly works in fabric and ceramics, and will pursue a masters of craft in the future. She plans to start a bespoke fashion line between her BFA and masters programs.
Valentina Parlato

ManOcchio

Siracusa (IT)
Valentina Parlato was born in Sicily in 1990 and went to the scientific high school of Siracusa. She worked as a real estate agent in Ortigia's Island; developing a passion in real estate design, she got the real estate license. In 2018 she began her career at the Academy of Fine Arts MADE Program. In 2019 two of her works were included in local exhibitions. She's currently designing a new personal collection.
Victoria Mercado-Lues

Attach a Patch

Tampa, USA
Victoria Mercado-Lues is working towards getting her Bachelor of Fine Arts degree in Studio Arts with a concentration in Ceramics at the University of South Florida. She is currently working at USF's Contemporary Art Museum and hopes to get her work curated for museums and work as a freelance artist. As a queer Mexican American woman, Victoria's identity plays a large role in their art.
Thank you to the support from San Rocco Therapeutics

Thank you to the support from the SAIC Wellness Center

This project is partially supported by a CityArts Grant from the City of Chicago Department of Cultural Affairs & Special Events.

The International Museum of Surgical Science acknowledges support from the Illinois Arts Council Agency.