Opening Reception: Deborah Simon: Embroidered Morphologies
January 27 @ 6:00 pm

-

8:00 pm

Free
Join us for the opening reception of Deborah Simon's newest exhibit: Embroidered Morphologies
Embroidered Morphologies
by Deborah Simon
January 27th – April 23, 2023
Opening Reception: Friday January 27, 2023, 6:00pm – 8:00pm FREE
From the artist:
"My work walks the line between taxidermy, toy, and sculpture. Each sculpture is meticulously fabricated to create an unnervingly accurate, uncanny version of the natural animal. Fragility and vulnerability are central to my work. The sculptures become inverted anatomies showing the interior organ structures embroidered on the body's surface. In revealing the similarities between mammals, the raw, vulnerable interiors connect us all. The sculptures create a tension between the reality of animals, humans, and our cultural concepts of animals; the wild and the tame, the beautiful and grotesque.
Over the past few years, my work has focused on two of the most anthropomorphized animals in our culture: bears and rabbits. Bears interest me as they are the ultimate stuffed animals: both the iconic plush toy and the prized taxidermy specimen for hunters. A stuffed bear is the enduring toy of childhood. The fierce predator declawed and defanged to become a child's best friend and sense of security. While bears and rabbits start as beloved childhood characters, our attitudes towards them quickly diverge. Bears, both revered and feared, are treated with far more respect. Our treatment of rabbits is more complex. Our attitudes range from adoration of their cuteness to contempt. Rabbits are animals that everyone has encountered, from storybook characters like Peter Rabbit and Bugs Bunny to the real rabbits kept as pets and running wild across our lawns. They evolve from childhood toys to pampered pets, garden pests, science experiments, dinners, and clothing. With the rabbits, I play with peoples' expectations and emotions; peel away some preconceptions, and expose the unease of our relationship with these animals and how we symbolize them.
Many people assume my sculptures are created from taxidermy. They are not. I make everything by hand, starting with painted sketches and sculpted maquettes. I embroider samples to figure out the fabric, fur, floss colors, and stitch directions. I then sculpt the body, make the skin pattern and sew the fabric and fur together. I hand embroider the organ systems onto the fabric skin. The head and paws are then sculpted in polymer clay, baked, and the fur carefully glued on. All the parts are assembled and permanently attached. The finished object is important to me; like the stuffed toys that are the first objects we treasure, the sculptures become beings completely contained within themselves.
____________________________________________________________________________________________________
Light refreshments are included and alcohol will be served to guests with proof of age. Alcohol served to guests 21+, ID required.
Accessible accommodations include a ramp entrance and elevator. If you need additional accessibility options or wheelchair seating please contact us at info@imss.org.
Parking and Directions can be found here: https://imss.org/plan-your-visit/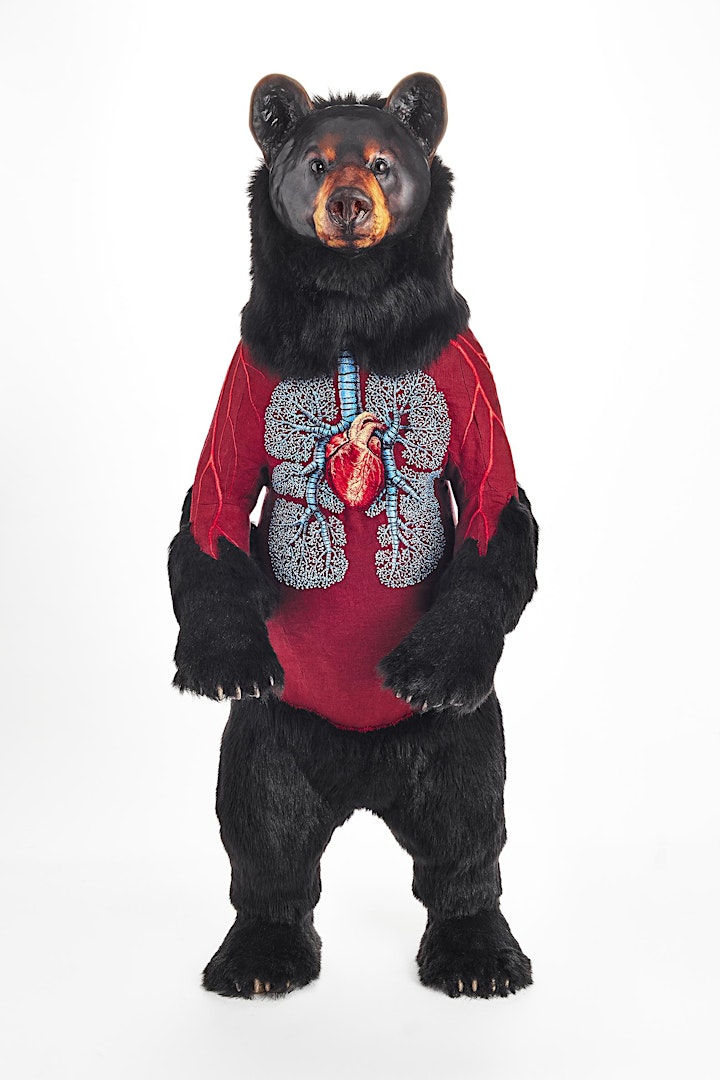 Ursus americanus: Standing, polymer clay, faux fur, linen, embroidery floss, acrylic paint, glass, wire and foam, 40"H x 18"D x 16"W, 2015. Photo credit: Dan Wonderly.
About the Artist: Deborah Simon lives and works in Brooklyn, NY. She studied sculpture at the Repin Institute of Art in Leningrad, USSR, received a BFA from the San Francisco Art Institute and then a MFA from School of Visual Arts in New York. Her work has been exhibited in solo and group exhibitions at La Halle Saint Pierre in Paris, France, the John Michael Kohler Arts Center in Wisconsin, Hudson River Museum in New York, Textile Arts Center in Brooklyn, St. Ann's Warehouse's Labapalooza! in Brooklyn, Bernice Steinbaum Gallery in Miami, Aron Packer Projects in Chicago, Marloe Gallery in Brooklyn, among many others.
Simon's work has been extensively written about, especially in the context of embroidery in contemporary art. De Fil En Aiguille, La broderie dans l'art contemporain was published in France in 2018 and the English version Threads: contemporary embroidery in art, released in 2020. Her work has been featured in HEY! Magazine, Vogue and Embroidery magazine. She has been highlighted in Hyperallergic, HiFructose, Time Out Chicago, and Designboom.
She is the recipient of multiple grants and fellowships including a Ruth and Harold Chenven Foundation grant and a Ludwig Vogelstein Foundation grant. Residency fellowships include Sculpture Space, Vermont Studio Center, Saint Ann's Warehouse Puppet Lab, Marie Walsh Sharpe Space Program and the Cultural Space Subsidy Program in Brooklyn, NY. Most recently she was a fellow of the Chulitna Lodge Creative Summer Residency in Alaska. She is represented by Aron Packer Projects in Chicago and Marloe Gallery in Brooklyn.
Learn More: https://www.deborahsimon.net/
Thank you to our supporters

This project is partially supported by a CityArts Grant from the City of Chicago Department of Cultural Affairs & Special Events.

The International Museum of Surgical Science acknowledges support from the Illinois Arts Council Agency.