Play Reading: Fortune and the Soapmaker
July 10 @ 6:30 pm

-

9:30 pm

Free
A workshop reading of the script & lyrics to this new original horror musical!
The performance runs approximately 2 hours and 15 minutes (6:30-8:45pm with one 10- minute intermission), followed by an optional talkback/feedback session with the playwright.
Join a team of actors as we take a casual dive into the first cold reading of this new work by playwright/songwriter James R. Wilke. Fortune and the Soapmaker is a macabre comedy horror musical that takes place in WWII Italy. It is loosely based on the life and times of real female Italian serial killer, Leonarda Cianciulli, who defied forensic and medical experts by the ingenious ways she disposed of her victims. Add to this murderous mother's mix an ambitious Italian dictator, young lovers and heroes, and a dash of Faustian lore to complete this recipe for Italian magical realism!
Fortune and the Soapmaker delves into themes relevant to all of us, such as confronting human mortality, losing loved ones to disease, war, and chance fate, and questioning how far one will go to save those that they love. There is even a song "Memento Mori" ("Remember You Will Die") in the musical to remind us not of death, but to live life to the fullest.
Light refreshments will be provided: water, sodas, and Italian cookies.
***
Doors open at 6:15.
Accessible accommodations include a ramp entrance and elevator. If you need additional accessibility options or wheelchair seating please contact us at info@imss.org.
PARKING AND DIRECTIONS: https://imss.org/plan-your-visit/#nav
Questions? Contact us at info@imss.org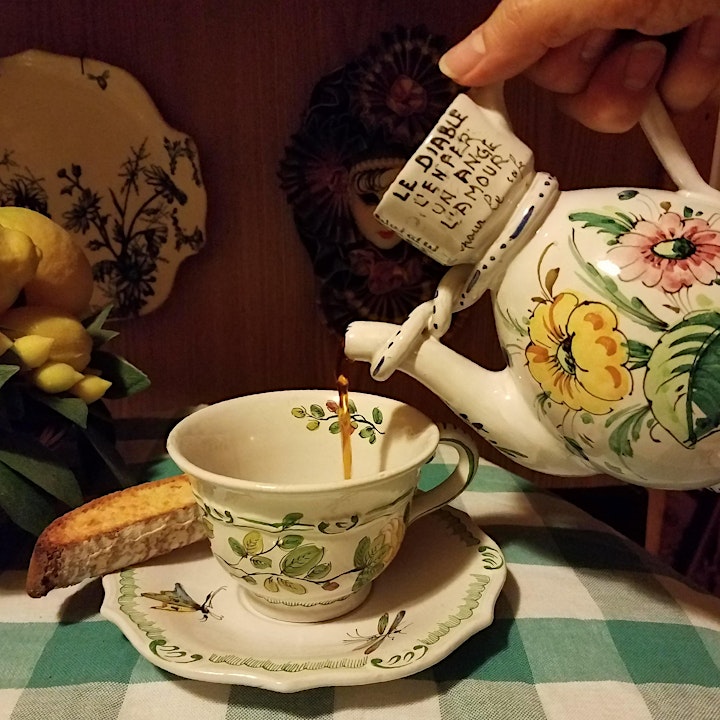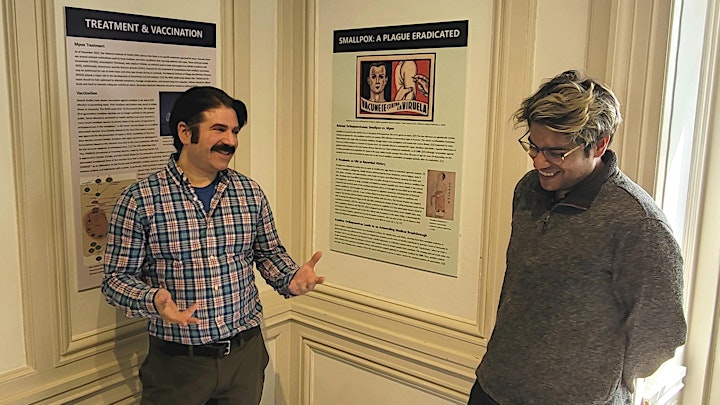 James R. Wilke, Guest Curator, and Fabrizzio Subia, IMSS Assistant Manager of Exhibits and Development converse within the IMSS exhibit "Medical History Today: Mpox." (photo by Robert Dennis, April 24, 2023)
About the Artist:
James R. Wilke is an accomplished writer, director and creative artist with multiple produced original plays, musicals, tv and film productions and podcasts under his belt, as well as articles in national publications and local newspapers, and a regional Emmy Award for Outstanding Director for the magazine tv show 24/7 Chicago on NBC.
He was the IMSS Spring 2022 Artist-in-Residence where he developed the exhibition "Pox Americana: How Smallpox Once Plagued America & The World" on view in 2022, as well as conducting play readings of his play adaptation of the early American historical novel A Mercy by Toni Morrison. James was also invited back to the IMSS in 2023 as guest curator of the exhibit "Medical History Today: Mpox."
With lifelong passions for musical theatre and the study of his Italian heritage, James is thrilled to return to this artform with his new work. Fortune and the Soapmaker is a show for which he has been crafting songs and scenes for many years, presenting segments to writers' groups, family, and friends, but not until now as a full script reading with actors. James has also written music & lyrics for six other produced musicals and musical theatre review shows and is an alum of the Lehman Engel Musical Theatre Writers Workshop in New York City and New Tuners Musical Theatre Writers Program in Chicago. He holds a Bachelor of Music Degree in Voice and Musical Theatre Certificate from Northwestern University and is also a certified public accountant with a Master of Science in Accountancy from DePaul University. James can be found on Instagram at @james.r.wilke.